Conservative Dentistry
Conservative Dentistry Approach in McLean, VA
We understand that these days many people are concerned about being able to afford the dental care they need. Here at Levine Family Dentistry, we want to provide our patients with peace of mind that when they walk through our doors that they will also receive a conservative and prudent approach to dental care. As conservative dentists, Dr. Fernanda Levine and Dr. Paul Levine pride themselves on offering a cost-effective approach to treating their patients while still providing them with the best outcomes for their oral health.
What Does Conservative Dentistry Entail?
Our goal here at Levine Family Dentistry is to provide treatment options that preserve as much of your own natural teeth as possible. Say you're dealing with a cavity and you need to have the tooth filled, our dental team will remove all the decayed enamel while employing techniques that reduce the amount of healthy tooth enamel that is removed prior to placing a dental filling. Other dentists may remove more healthy tooth or tissue than is necessary, but here at Levine Family Dentistry we aim to preserve as much healthy tooth as possible.
Conservative dentistry offers a variety of dental treatments and procedures that are both restorative and cosmetic in nature. Before you undergo any treatment, you will come into our office where our dental team will examine your teeth and draw up a custom treatment plan based on the issues you're dealing with, your health and your medical history. Each treatment plan is tailored to our patient's unique needs and goals, and we take the time to listen to what you need during your consultation so we can provide you with the very best, minimally invasive dentistry possible.
What Are The Benefits Of Conservative Dentistry?
Some of the benefits of conservative dentistry include:
A More Comfortable Treatment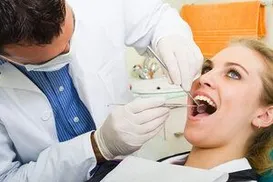 Since we are providing more minimally invasive procedures at our practice, this not only means less discomfort during your procedure but also fewer side effects and issues after the procedure. In some cases, anesthesia may even be avoided by providing more conservative approaches to dental care.

Faster Recovery Times
Since we are preserving as much tooth or tissue as possible through more conservative dental techniques this also means a shorter recovery with fewer side effects to worry about. This means that you can get back to your daily routine without having to take time off.
Preserve Your Natural Smile
Your smile is beautiful, and we want to keep it that way. By performing less invasive procedures, the dental team at Levine Family Dentistry preserves the structural integrity of your teeth and gums so you can maintain your natural smile for longer.
Here at Levine Family Dentistry in McLean, VA, we treat every patient like family.
If you are looking for a conservative approach to dentistry, call us today at (703) 356-3960.